Latest news from vineyard and cellar
REPORTS OF THE CURRENT SEASON
2002 2003 2004 2005 2006 2007 2008 2009 2010 2011 2012 2013 2014 2015 2016 2017
March 2018 - Harvest time!
It appeared that our vines adapted well to the drought, and the grapes could ripen to full maturity. It is a beautiful autumn, with cool nights and mild days, ideal ripening conditions.
Finally the time has come, and we harvested on March 13th and 14th, exactly 55 days after mid veraison. Like last year, the fruit had ripened very evenly, so we were able to harvest everything in two days. Admittedly, the crop was slightly down (7t/ha), but it was particularly healthy and of high quality.
January-February 2018
The new year started promisingly, with a refreshing little rain on January 1st. However, it was just 5 mm. To put this in the right context, one must understand that our vineyard consumes at this time of the year every day about 2.5 mm (= 2,5 lt per day and square meter). If there is too little rain, it naturally relies on the soil reserves. These are now running very low, which is why we support the vines with additional irrigation during this phase.
For the rest of the ripening phase, only once again, on February 13, a significant rainfall of 14mm brought some relief. Fortunately, the temperatures were comparatively moderate, and our vines develop surprisingly well and above all very healthy, as if they were desert plants. There is hope for a high-quality crop 2018 despite all the drought.
November - December 2017
As previously reported, we are currently suffering from a serious drought. Up to now, there was only half of the usual seasonal precipitation, the dams are emptying quickly, and Cape Town has implemented the strictest water restrictions ever. Fortunately, the rain we had until now was nicely spread over the entire budding and growing phase, and together with comparably moderate temperatures, the vines developed surprisingly well and are strong and healthy, with somewhat smaller, but all the more beautiful grapes.
However, our soil moisture sensors and satellite-based multispectral analysis of the vineyard suggest that the soil is now quickly drying up, and we decided it's now time to start with additional irrigation during the last days of December. Of course, we rationed our (this year strongly reduced) water quota such that we now should survive the following maturation phase well … provided that all others stick to their quotas, too, and don't overuse the dwindling reserves. Slowly but surely it appears that we might hope for another top-quality harvest, despite all the drought.
During this time, we also visited a few wine fairs in Europe, with Ingrid going to Berne and Basel, and Luca to Ghent and Zurich, and it was a great success - many thanks to all our loyal visitors and customers!
October 2017
The vines are growing fast now, and suckering, the thinning and removal of excess shoots, keeps us very busy during this time of the year. It's a tedious work, but definitely worth the effort, if you are aiming for quality.
September 2017
Winter was quite cold, and accordingly, budding occurred very evenly around mid of September. As mentioned before, however, the winter was also very dry, the upside being that our enemy no.1, the snails, only occurred in small numbers, and our special unit for snail control could sort out the rest :-)
July - August 2017
We are still waiting for the rain. The dams are on a record low, and the forecasts speak about another dry season 2017-18. August is traditionally the pruning month, and so we adjust this according to the dry spell, leaving only short bearers and little reserve buds.
June 2017
As always during this time of the year, we are travelling to Europe, and it is our pleasure to attend the following tastings:
- South African Wine Show in Zurich: Monday, 12 June 2017 15:00 - 21:00
this year in Sihlcity Zürich, room Folium
- Cellar Tasting at SAVINIS, our Swiss importer in Muttenz, Switzerland
May 2017
After MLF was so swiftly completed, we could rack the new wines already in May for the first time. Racking means, to syphon the young wine from the barrels into a tank, leaving all impurities and sediments behind, cleaning the barrels, and eventually filling the same wine back into the barrels. This is an operation to naturally clarify the wines, at the same time allowing some aeration, which contributes positively to its development.
Besides, it's time to take care of last year's wines. These turned out to be of exceptional good quality, with good color and complex aromas, but also with a particularly strong structure. After we have bottled the Little Merlot 2016 already earlier, we allowed the Bein Merlot two months additional barrel maturation and only bottled it now at the end of this month. The Reserve Merlot, which is in 100% new barrels, can enjoy these even longer, possibly maturing this time up to 24 month in oak – we will see and wait until the moment seems right.
At the end of May, we also bottled the Pink Merlot 2017, which will soon be available, as always as the first representative of the newest vintage.
April 2017
In the cellar, everything went smooth, and the wines came into barrel at the end of March. Last (but not least), we vinified the Merlot Forte, our speciality wine made from dried grapes. This fermentation requires particular attention, in order to ensure that it runs through until to the end. In the mean time, the red wines in barrel undergo the so-called malolactic fermentation (MLF), in which the somewhat sharper malic acid is converted into milder lactic acid. This is sometimes a critical process, though didn't cause any hick-ups this year again, and MLF was completed in all barrels by the end of the month.
21 Feb - 8 March 2017: Harvest time
Harvest 2017 begun for us on 21st of February. As always, we picked the fruit for our rosé first, for crispier acidity and fresher red-berry flavors. The grapes for the red wines are then harvested two weeks later, at full maturity. As ripening throughout the entire vineyard was very even, we harvested everything together, on 7th and 8th March. Like in the previous year, the fruit was extremely healthy and evenly ripe. Sugars, however, were fortunately lower together with a good acidity, which we attribute to the comparably cooler temperatures during the ripening season. The video-clip gives you an impression of this years harvest, in which we actually used for the first time our new drone :-)
February 2017
A really good rain of 50mm at the end of January brought much needed relieve from the current draught in the Cape Winelands. So we can look forward to a perfect ripening of our grapes. Of course this has to be monitored personally. The video below gives you an impression of this grueling work ;-)
January 2017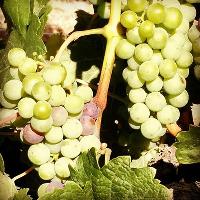 On time with the New Year came the first signs of veraison, the change in colour of our grapes. Accordingly, the harvest for the red wine 2017 can be expected in the second week of March, which is again slightly earlier than the long-term average.
With the New Year, however, fearful bush fires have also flared up in various places, a consequence of the persistent drought, additionally fuelled by now stronger winds. In this first week of 2017, over 4000 hectares of land, mainly wild bush, but also farmland and vineyards, as well as several houses burnt down in the Stellenbosch area - a catastrophe there for humans and animals.
November-December 2016


As mentioned, the annual snail plague troubled us again at the beginning of the season. But now we are using a new weapon to fight it, namely runner ducks. Their favorite food is snails, ideal for our vineyard! We swiftly built a duck-yard around the little pond near the cellar and bought a few birds from a neighboring farm. And after some hick-ups (!) in the beginning, they are now really chasing snails wherever they are. We can look forward to the next (snail)season!
"Naturally" we used again our other tried and tested biological weapon this year, with the regular release of thousands of parasitic wasps and ladybird beetles against mealybugs. And it seems to work: so far we haven't seen a single mealybug yet.
Weather-wise, it is as dry as before. So far, we recorded just 40mm of rain during the first three months of Oct-Dec, not even half as much as the long-term average in Stellenbosch (84mm). On the plus side, it has been a particularly healthy year, with relatively little wind and moderate temperatures. So the signs are good for another great harvest.
October 2016: a dry start
After a rather dry winter with significantly lower rainfall than usual, also Spring didn't bring much relief, with only little rain up to now. In fact we are facing water restrictions - let's hope, El Ninja brings the much needed change!
October always keeps us busy with suckering, the removal of excessive growth and shoots from stem and cordons. It is a time-consuming work, and concentration and a good eye is needed to distinguish the unwanted suckerers from the "good" shoots, which will eventually bear the grapes. And the work must be done quickly in order to finish in time, as the shoots grow now fast during this time of the year.
September 2016: Spring
First signs of budbreak in our vineyard were observed by mid of September, for us the launch of the new vintage! This is usually followed by an intense time in the vineyard. This year, we suffered particularly under an attack of snails - the white dune snail (Theba pisana). It is actually an alien invader from Southern Europe and a real pest in certain spots. As budding is starting, we had to free the vines by hand. On one day, we collected 35 kg of them, which amounts to over 40'000 snails!
August 2016: Purple is the flavor of the month!
August saw us labeling and releasing our latest vintages; and with it comes our newest child, the Merlot Forte 2014.It is a novelty wine made from partly dried grapes and matured for two years in tight-grain 2nd-fill French oak barrels. It is a powerful wine with a strong character, concentrated and intensely flavored, a protagonist on its own.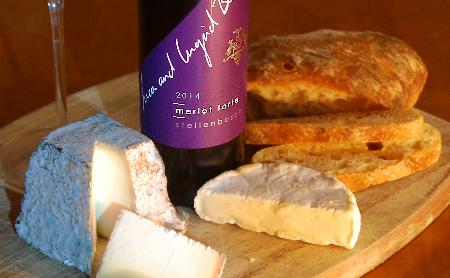 Hand-picked on 22nd of March 2014, carefully selected bunches were laid out in special drying crates and allowed to partly raisin in the open air. Once the grapes have lost 30% of their weight, they were gently destemmed and fermented on the skins during three weeks. The wine was then set to mature in 225L French oak barrique for 24 months. It was bottled on 15 April 2016, unfined and only gently filtered.
Naturally, as the grapes shrivel, sugars, acids, tannins, flavors and other components concentrate, which gives this wine its distinctive bold character and naturally high alcohol. This makes it the ultimate wine to crown a gourmet meal, to complement a rich dessert or mature cheese; or simply enjoy on its own :-)
July 2016: Pruning
Pruning is an important step in developing the coming harvest. It might look simple, but a lot of thoughts go into it...I would actually call it my most thoughtful work at all. It would fit into any business manager's training: every cut a decision, 1000 decisions a day...
Previous reports have been condensed to vintage reports for each year and can be looked up there.