Snips and Snippets
2002 2003 2004 2005 2006 2007 2008 2009 2010 2011 2012 2013 2014 2015
Rain water harvesting at Bein Wine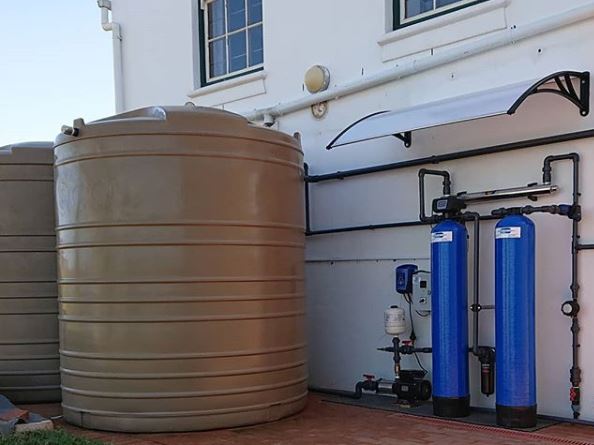 June 2018: Water is increasingly scarce in the Cape. So we decided to set up a rainwater harvesting system. We are confident that we can cover the entire demand in house and cellar, since we have relatively large roof areas, and even that little bit of rain of a dry year should be enough for us. The water is collected in large tanks and treated through a special filter system to drinking water quality, before it is fed into the home network - and the great thing about it: our water tastes better than city water, and is even without chlorine or other additives, ideal for a wine cellar!
Satellite technology for Bein Wine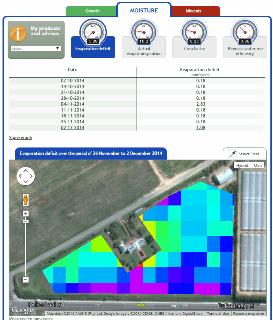 The currently reigning El Nino brings about stressful drought periods in the Cape. Fortunately, we have good scientific tools to assess the water needs of our vineyard. We already long relied on soil moisture probes as well as on the evaluation of current weather data. What is new is satellite-based multispectral analysis of the water status of our vines. This allows us a good estimate of our vine's effective water use. Moreover, it gives us additional information regarding growth and even nitrogen status of our plants. This service is available thanks to an initiative of the Western Cape Department of Agricultural, which aims at promoting water saving in agriculture. For more information, have a look at www.fruitlook.co.za .
Musical surprise: "Tiny little winery"
December-January is high season in the Cape, with many tourists from all over the world. Some of them also surprise us with a visit to our wine cellar. A special surprise, however, came from a regular guest from Germany, Thorsten Eden with his wife Tini. Being a passionate guitar player (www.diepullies.de), Thorsten was so happy to find one of these beautiful "African" guitars in Cape Town, that he spontaneously created a song about our little wine farm. Although no amplifier and microphone was at hand and it's not a perfect recording, we love it so much that we must share it here :-)
Bein Wine goes solar!
As you know, we are full-heartedly committed to sustainable production. So it's only natural that we tap into solar energy sources. Since 2012, we have our own solar plant to produce electricity, particularly efficient for the essential cooling of the maturation cellar during the sunny-hot summer days. More info here on our Solar Portal
The Rock Kestrels love it, too!

After a pair of rock kestrels showed interest in our owl box at the winery, we swiftly installed a second one just beside - and they gladly accepted it! So it happened that we have now owls and kestrels happily living together under one single roof, regularly raising 3-4 chicks each every year. Of course, there is a video clip of the kestrels, too.
Bein Merlot amongst the top 100 wines of South Africa
March 2011: It was a great surprise to be selected amongst the top 100 wines of South Africa by the exclusive panel of wine journalists of the South African online magazine GRAPE (not to be confused with the commercial top-100-SA-wine-competition). GRAPE is actually the only independent SA wine publication and for more than 10 years an invaluable source of wine wisdom - we can only recommend it. Read more about it --> GRAPE-top-100
...and further good marks for the Bein Merlot
20.Nov.2010: Our Merlots were well received by the judges for PLATTER'S 2011 edition, South Africa's most influential wine guide: 4 1/2 stars each for the Bein Merlot 2008 and 2009 as well as for the Merlot Reserve 2008, 4 Stars for the Little Merlot 2009, and 3 Stars for our Pink Merlot 2010, particularly recommended as best value rosé!

14.Nov. 2010: Silver medal for Bein Merlot 2008 at the prestigious MONDIAL DU MERLOT 2010 in Lugano (Switzerland), an international wine competiton exclusively for Merlots from all over the world.



16.Oct.2010: EMOZIONI DAL MONDO:MERLOT E CABERNET INSIEME, an international wine competiton in Brescia (Italy) specialised on Merlot/Cabernet wines, has rewarded our Little Merlot 2009 with a gold medal and the Press Prize for the best South African wine of the show.
Our barn owls on YouTube

There are currently barn owls and rock kestrels competing for our nest box at the winery as breeding place, so we simply put up a second box - now with a camcorder! Check out the sample with the owls. We could watch it for hours!
May 2010: "They're fun for all in South Africa's Cape Winelands, says a tipsy Amanda Hyde". Read more about her experience on our Donkey Walk through the Polkadraai Hills on our sister webpage www.polkadraaihills.co.za
Bein Wine in Swiss Cash-TV

11.4.2010: In the context of the Soccer World Cup, a series of South African reports have been screened on European TV, amongst others this little review about Bein Wine (in German).
May 2007 saw us for the first time using the brand-new DIAM-cork for all our bottles, and we'll stick to it - perhaps a small step for humanity, but a big step for us! This absolutely innovative stopper is ...(read more about DIAM)
2009: Although South Africa is counted amongst the New World's wine producers, the first Cape grapes were already pressed 350 years ago, in 1659 under Jan van Riebeeck.... read more about our interesting wine history
Ever heard about Precision Agriculture? Read more about this topic on our vineyard page, or download our info-poster "Precision Viticulture in Bein's Vineyard" (PDF/256 KB)