THE team behind Bein Merlot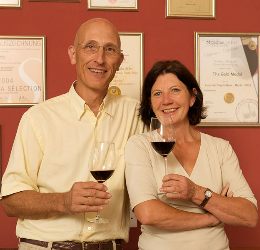 Luca and Ingrid Bein
Originally from Switzerland, with a passion for wine and South Africa, we bought a piece of land in 1993 in the heart of the Stellenbosch Winelands. Having worked for many years as veterinarians back in Switzerland, we decided for a career change. We went back to University and emerged 4 years later as oenologists and viticulturists. Today, we focus whole-heartedly on the production of our quality Merlot, doing everything ourselves from planting to marketing.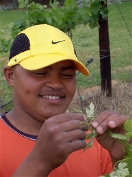 Johannes October
has been part of the team since Bein Wine begun. He's our indispensable mate in vineyard and cellar. He is heavily involved in local soccer, and every free minute is spent on the soccer field.
The harvest team - 100 helping hands, when most needed. For many years, the same core team, complemented now and then by new faces. They'r a multicoloured bunch of wonderful people; sometimes difficult, sometimes a source of droll humour, sometimes insight into drama, and always good for a surprise.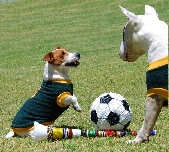 Our watch dogs, like Rolex(sic!) on the photo. They are our beloved companions, and in fact our most successful marketing representatives in the team (beside the donkeys). They twist every visitor around their little finger (toe?).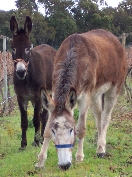 And last but not least, our donkeys: They are responsible for producing manure and mowing the cover crop in winter time. Beside, they help bringing in the harvest and make us run a bit faster (after them!)