Vintage report 2016
2002 2003 2004 2005 2006 2007 2008 2009 2010 2011 2012 2013 2014 2015 2016 2017 2018 2019 2020 2021
Merlot 2016
Given that the previous vintage was already dry, the 2015-16 season was even worse. Even during winter, we had far too little rain, and temperatures were too warm. Budding happened accordingly early, and the continual warm and very dry weather throughout the season produced an equally early harvest.
But similar to the previous year, the grapes ripened very evenly and were, above all, very healthy. We harvested eventually the grapes for the red wines all at the same time, and virtually nothing had to be sorted out. This years fruit was really of top quality, with loose clusters and small, firm berries, producing exciting wines in the cellar.
As quality and quantity were right this year, we were able to select generously and could once again produce the full range of our wines, including the Merlot forte. As is our tradition, this vintage has been supplemented with a dash of another Bordeaux grape, this year with Petit Verdot, which we could snatch from a neighbor in excellent quality.
It was also the first time that we played around with longer barrel maturation, thanks to the strong structure of this year's wines. Though we bottled the Little Merlot as usual after 10 months of barrel maturation, we allowed our flagship wine, the Bein Merlot, 14 months in barrel. And the Reserve Merlot was even matured for 22 month in 100% new French oak barrels.
Last but not least, we produced a Merlot Forte again, after the first edition was snatched up by our customers within 1 months after release. This wine naturally matures for two years in barrel, and you can look forward to get it in 2018.
Bein Merlot 2016: after a slightly longer maturation of 14 months in French barriques (30% new), this wine was bottled end of May 2017 and then allowed another year of bottle maturation until its release mid 2018. The vintage 2016 produced dense and compact wines with particularly good colour and big tannins. Complemented with a dash of Petit Verdot from neighboring vineyards. It was bottled in June 2017.
Tasting notes May 2018: Although still young, this wine impresses with fine fruit of dark berries and cherries and well integrated barrel flavors, and on the palate with a dense structure and loads of ripe tannins. This wine will need time, but will develop beautifully over the next ten years and above.
Total production 7070 x 0.75L Bottles, Alc 14.5
Alc 14.5 %Vol, Extract 32.5 g/L, RS 2.0 g/L, TA 5.5 g/L, pH 3.69

Merlot Reserve 2016: Complemented with a dash of Petit Verdot from neighboring vineyards, this vintage was matured for 22 months in 100% new oak barrels from top French coopers, resulting in a very complex wine with a particularly strong character, rich and full-bodied, a gorgeous wine with lots of ripe tannins and savory aromas. Great aging potential, possibly best in 2020-2030. .
Serve at 18ºC, open at least one hour before or decant; best as companion to a gourmet dinner, or simply enjoy on its own when mature.
Bottled on 31st of January 2018, 1800 bottles produced
Alc. 14.9, Extract 33.1g/l, RS 2.0g/l,TA 5.6g/l, pH 3.62
Little Merlot 2016 is as always vinified from grapes from the more vigorous zones of our vineyard, as defined by Precision Viticulture. It shows the typical strong character of this year's wines, but at the same time convinces with ripe tannins and fine aromas of raspberry and sour cherry. After 10 month maturation in 3-4-year-old barrels, it was slightly fined (vegan friendly!) before bottling. A total of 4927 bottles were produced from this vintage.
Alc 14.5%, RS 3.9 g/l, TA 5.6 g/l, pH 3.64
Pink Merlot 2016: Harvested on 16 February - the earliest ever on our farm - the fruit was swiftly destemmed and macerated for one day on the skins, then gently pressed in our traditional basket and eventually slowly cold-fermented in stainless steel. Like every year, this Rosé convinces with its attractive bold color, the perfect sweet-sour balance and its delicate aromas of red berries.
2990 x 0.75Lt bottles were produced from this vintage.
Alc 13.47%, RS 4.0 g/l, TA 4.86 g/l, pH 3.37
Merlot forte 2016: Made from partly dried grapes and barrel-matured for 30 months on French oak barriques, this wine is defined by concentrated fruit, a full body and firm structure, finishing with a lingering aftertaste. As our chef taster (Leanie L.) puts it: "Plums, prunes, caramelized sugar and sweet tobacco aromas. On the palate good sweetness, balancing well with acidity and prominent tannins, grippy, medium smoothness with lots of fruit on the palate. Beautiful wine!"
- Production: 1210x0.375ml
- Alc. 16%, Extract 42.3 g/l, RS 9 g/l,TA 5.56g/l, pH 3.5
Vintage Report 2016
Post-harvest 2016 : winemaking
The period after harvest is the actual "winemaking" challenge. During the first few weeks, the fermentation requires a lot of attention, with several daily checks, pump-overs, punch-downs, aeration and other things. Then the pressing, the malo-lactic fermentation, the racking and barreling ... and last but not least the finishing and bottling of last year's wine. This is a busy time, especially as we do this all in pure artisanal style.
In return, the current vintages reward us with an extraordinary quality. So good, that at last, we can produce again a Merlot Reserve from the 2015 vintage, beside our flagship wine Bein Merlot. There is, however, bad news for our Little-Merlot-lovers: there will be no Little 2015 :-/
March 1 & 2, 2016: A fantastic crop!
The already early budding and continuously hot and very dry weather during the season resulted in a correspondingly early ripening, and the harvest for our main crop started with the first day of March. Similar to last year, the grapes ripened very evenly and were above all very healthy, so that we could harvested everything over two days, and little had to be sorted out. The comparably loose clusters with their small, firm and deep-dark berries promise a great quality for our future 2016 wines.
Weather-wise, the first autumnal rain at the end of March brought finally some relief for the stressed nature. Let's hope that El Nino will now release us from his grip and the drought is soon over.
16 February, 2016: An early harvest
February's weather was still unusually dry and very warm, which significantly advanced the harvesting season. So we started already on 16 February with the harvest of the grapes for our rosé. As always, the wine is then slowly cold-fermented at 15°C for optimal flavor development. Together with this years typically lower acidity - caused by the hot ripening season - this will become a very palatable rosé, to which we look forward to sell :-)
Fortunately, the second half of the month was somewhat cooler, especially at night, though it's still very dry and sunny. Nevertheless, these are perfect ripening conditions for the grapes for the red wine, so we are looking forward to a good harvest for our Bein Merlot.

January 2016: hot and dry!
With the New year, yet another heat wave started, which seems to be determined to persist throughout the entire month. It is really unusually hot, with regular midday-temperatures of 32-35 degrees. And it is dry, really very dry! In fact, South Africa is in the grip of its worst drought in decades. The meteorologists say that 2015 was the driest year on record, which dates back to 1904. And it shows no sign of abating....



Together with the start of the New year, also our Merlot started changing color, a bit earlier than usual. And we started to post photos on Instagram, so you can follow us now on instagram #beinwine to view pictures of how our new vintage develops.
December 2015: It's time for the air force!
December started with a week-long heat wave, with temperatures up to 36 degrees. Luckily, the rest of the month was more moderate, and we even had some rain of 19 mm during mid December.
Unfortunately, these dry conditions are ideal for our enemies, the mealybugs (see our October post). So it's time for an "air strike".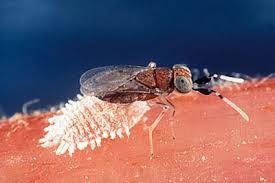 With this, we mean another augmentive release of natural antagonists, namely tiny little wasps, which parasitize the adult mealybugs by laying eggs in it. The hatching larvae, naturally destroying the bug by feeding on it, develop within 10-14 days into adult wasps, which in turn take on the next generation of mealybugs. The picture shows such a beneficial wasp (Anagyrus pseudococci) at oviposition.
November 2015: Lot's of work in the vineyard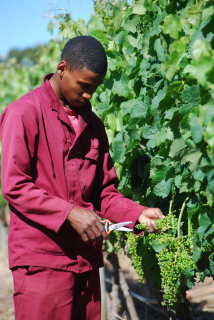 Again, it's a very dry year. El Nino shows its effects! While we had no rain at all in October, November brought after all 34 mm, though still merely half of the usual rainfall so far. Fortunately, the temperatures are rather moderate, and the vines develop well despite the drought. Right now, we're busy with shoot positioning, leaf plugging and fruit thinning, a process, where each individual shoot and bunch is positioned and trimmed to perfection, so that the fruit can develop optimally - a time-consuming job.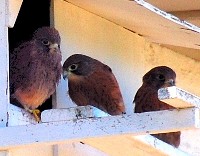 13 Nov 2015: Beside all the stories about the tiny little predators in our vineyard (see below), we won't forget our feathered friends, the owls and kestrels, who take care of the larger pests. Here a picture of this year's young kestrels at the nest box, as they explore the outside world for the very first time.
October 2015: Biologic pest control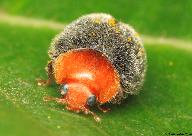 Beneficial organisms are the best pest control agents. We favor already long the development of natural enemies of pests in our vineyard. This year we went one step further by releasing repeatedly large numbers of tiny parasitic wasps and Ladybugs (see picture), which are specialized on vine mealybugs (Planococcus ficus). Mealybugs can cause particular damage by transmitting viruses associated with Grapevine Leaf-roll disease (GLRaV), a disease that causes substantial economic damage in SA vineyards. Fortunately, our vineyard is virtually free, since we sanitized it some ten years ago. So their control is of particular importance for us.
September 2015: An early spring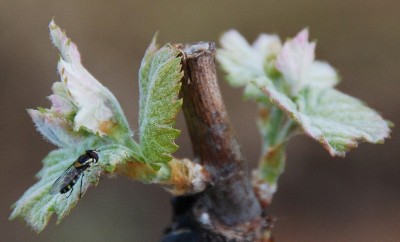 Budding was early this year, as shown on this picture of 8 September 2015. By the way, that little insect on it is a hoverfly, a beneficial insect, whose larvae are natural enemies of aphids. Read more about natural enemies of pests and how we make use of them here later in this year.
June - August 2015 : Winter time!
After the last season was characterized by persistently warm and particularly dry weather, this winter brought only little rain, too. By now, most dams of Western Cape are still less than three quarter filled (dam levels of Western Cape).
Temperatures, however, were sufficiently low for a good winter rest of the vines. Nevertheless, we also had a lot of warm, sunny days, and we could observe the first signs of budding, so called bud swell, already towards the end of August, 2 weeks earlier than usual.
During winter, we are of course not only busy with the traditional winter work in the vineyard, above all of course, pruning the vines, but we are quite active in the cellar, too. The reds of this year, which are in barrel since March, had quickly completed malolactic fermentation and needed a first racking. Also our Pink Merlot 2015 had to be finalized and bottled. It come out well, convincing as ever with its beautiful bright color and fine aromas of red berries.
Last but not least, we bottled last year's Red. Like every year, it took us many blind tastings and even more discussions, until we chose to supplement our Merlot 2014 with a dash of Cabernet Sauvignon and Malbec each. But the good results let us forget the hassles of the difficult harvest 2014; the wines surprise with pure, fine aromas and particularly smooth tannins. Again, two qualities could have been bottled: The Little Merlot from the 3rd and 4th fill barrels, which is as always more fruit driven and earlier accessible und thus available since July; and the Bein Merlot, which was matured in mainly new oak barrels and therefore will first be allowed some more time of bottle maturation before its release.