MCC brut Rosé
Wine of Origin Stellenbosch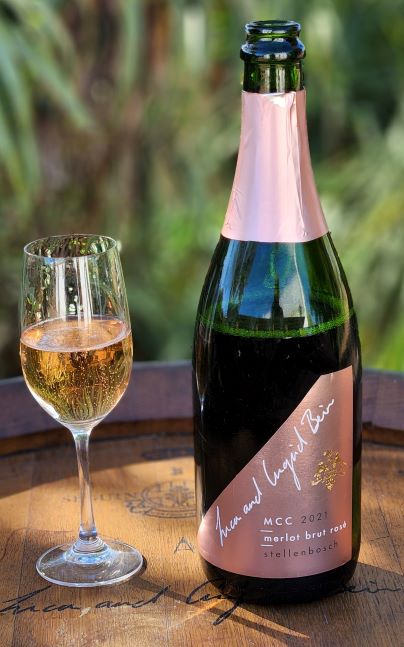 Our MCC brut Rosé is the latest highlight in our range of fine Merlot wines. Crafted in the traditional Méthode cap classique from finest Merlot grapes, it is unique in the already exclusive world of sparkling wines. In the glass, it impresses with its flirty salmon-pink color and a fine, persistent perlage and on the palate with delicate aromas and gentle freshness - a wine made to celebrate life!
The maiden vintage 2021 was a perfect vintage that produced healthy and evenly ripened grapes. Harvested early on February 3rd for fresh flavors and a crisp acidity and gently pressed in the traditional basket press, only the best first fraction of the juice was obtained for the base wine. The second fermentation in the bottle was then initiated according to the classic recipe. And finally, after nine months on the lees, it was disgorged on January 28, 2022 and finished with a traditional sparkling wine cork closure.
Serving suggestion: Whether on its own, as an aperitif or as a noble accompaniment to an elegant meal, this wine is always perfect to celebrate the precious moments in life. Serve chilled, ideally at 0-5 º C, and best enjoy in the first two years after release.