Vintage Report 2015
2002 2003 2004 2005 2006 2007 2008 2009 2010 2011 2012 2013 2014 2015 2016 2017 2018 2019 2020 2021
Merlot 2015
The growing season 2014-15 was characterized by unusually dry and warm weather. In addition, there were exceptional heat spikes during ripening, as on 2nd and 3rd March with 42°C and 43°C respectively, the highest temperature we ever recorded on our farm. Nevertheless, the vineyard came well through the season, yielding super-healthy fruit of excellent winemaking qualities. The resulting wines convince with intense aromas of dark fruit - plums, blackberries, mulberries, cherries -, a deep dark color, firm structure and dense tannins. Spiced up with a splash of Malbec and Petit Verdot each, the wines are so convincing that we decided to bottle once again a Reserve Merlot beside our flagship wine, the 'black label' Bein Merlot, though no Little Merlot.
Bein Merlot 2015 was bottled on 19 of April 2016 after one year barrel maturation in in French oak barriques (30% new). Total production was 6337 bottles of 0.75 L, 2057 small bottles of 0.375Lt and 362 Magnums.
Alc 14.7%, Extract 32.8 g/lt, pH 3.59, TA 5.44 g/lt, TSO2 86 ppm
Merlot Reserve 2015 : matured for one year in 100% new French oak barriques, bottled on 14 April 2016 in 1854 bottles of 0.75Lt.
Alc 14.6%, Extract 32.3 g/Lt, pH 3.56, TA 5.48 g/Lt, TSO2 78 ppm
Pink Merlot 2015: Our fruity-dry rosé.
Harvested 14 days earlier than our red wines and slowly cold-fermented in stainless steel, this vintage convinces again with fresh aromas of red berries and the perfect sweet-sour balance on the palate. 3338 bottles produced, for early drinking pleasure.
Alc 13.65%, RS 4.9 g/l, TA 5.4 g/l, pH 3.29
Detailed vintage report: Season 2014-15
May 2016: Bottling
The first two weeks of May kept us busy with bottling, which we do by hand since many years. Admittedly slower, but definitely less stressy than the usual machine bottling process. And above all, it allows us a better control. This was particularly important this year, when we discovered that several batches of bottles were of shockingly poor qualities, broken bottoms, skew necks and other problems; hope we sorted them all out!
Watch the video to see, how hand-bottling works for us.
January 2016
All batches of our 2015 wines have developed equally well. Still in barrel, they all convince with a deep color, rich flavors, ripe tannins and dense extract. As a result, we decided that we will bottle a Reserve Merlot of this excellent vintage beside our flagship wine, the 'black label' Bein Merlot, though no Little Merlot.
Both wines will be complemented with a dash of an excellent Petit Verdot and Malbec, which we could source from a neighbour right after harvest. The blends were completed on the occasion of the last barrel racking on 13 January 2016. Now, they have another two months time in barrel for 'marrying' harmoniously before their bottling in April 2016.
April 2015: Where is the rain?
Weather-wise, it is still sunny and very, very dry! Particularly unusual for April, but it continues the extremely dry spells of this vintage.
The reds of this year are already in barrel for over a month. Malolactic fermentation has completed quickly and the wines evolve beautifully. Ingrid loves it so much that she repeatedly diverted a bottle from our little top-up tank for herself - of course for control purposes, as she said.
Also our Pink Merlot 2015 has come out well, convincing as ever with its beautiful bright colour and fine aromas of red berries.
March 2015: March starts with a Bang!
It was already a record-breaking warm, windy and very dry season. But 2nd and 3rd March brought an absolute heat record, with 42°C and 43°C respectively, the highest temperature we ever recorded on our farm. Fortunately, we kept the water level of our vineyard sufficiently high so that the grapes only responded with an extra boost to maturity, without taking any damage. But as autumn progresses, it cools down regularly overnight and the grapes continue to ripen to perfection. It really looks as if we are all heading for an exceptional vintage.
03/09/2014: Everything culminated on March 9, when we harvested the entire vineyard in one day - a novelty for us! But the fruit was so even and clean, we hardly had to sort; so no complaints for this time. What shall we say more - super healthy, dark colour and great extracts. The wines are now in the tank and happily fermenting forward. Let's hope it stays that way!
February 2015: A good year for Pink!
After the weather remained stable - that is still warm, windy and very dry - we were able to harvest the grapes for our Rosé on 24 February at best conditions. The fruit was very healthy and uniformly ripe. 3700 kg have been brought in on this day, good for as many bottles of our Pink Merlot 2015.
January 2015: warm and dry as before
The weather continues as before, warm and dry; only interrupted once by a welcome rain on 16 January. The winds have eased somewhat, and we had already the first early heat wave with temperatures up to 34 degrees from 20 to 24 January. But the vines seem to like it and continue to look great after veraison (color change), which was completed around 23 of January.

On January 24, we opened our cellar doors once again for "Bratwurst & Merlot", in the tradition of so called "Besenbeizen" of Swiss and German vintners. The response, however, was so great that we were pretty overwhelmed. After two hours we were practically sold out and had to hastily organize supplies. A Sorry and Thank you again to all our visitors, who waited patiently!
December 2014: On and off
TThe vineyard looks beautiful, and for once we believe we have everything under control. But as it goes, now we are plagued by constant blackouts. As a consequence, the irrigation water supply fails again and again and thus the implementation of our so cleverly designed irrigation program (see below) becomes a nightmare. Of course, the economy in the whole country suffers. There is no speedy recovery in sight, since over the last 20 years, the ruling ANC government has invested neither in expansion nor in maintenance of the relevant infrastructure. It's sad.

Weatherwise, it goes on as before, with virtually zero precipitation. The drought is further exacerbated by unusually strong winds. The 4,5 mm rain that eventually came on Christmas day was too little to bring about any relief. In addition, it became really warm towards the end of the year, with the temperature raising up to 32ºC. All this seems to prompt an early veraison; we can already observe the first signs of colour change in the grapes, almost three weeks earlier than last year.
October-November 2014: warm and dry/h5>
It was a dry start into the season. So far, we had just 40 mm of rain in the last three months, just one third of the long-term average. So we had to start early with additional irrigation. This, however, is a tricky thing; too much or too little water can quickly have negative consequences.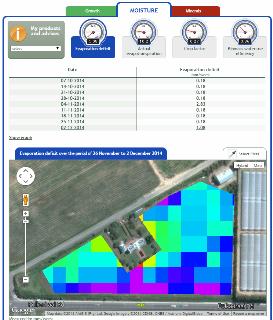 Fortunately, we have good scientific tools to assess the water needs of our vineyard. We already long relied on soil moisture probes as well as on the evaluation of current climate data. What is new is satellite-based multispectral analysis of the water status of our vines. This allows us a good estimate of our vine's effective water use. Moreover, it gives us additional information regarding the growth and even nitrogen status of our vineyard. This service is available thanks to our participation in an initiative of the WC Department of Agricultural, which aims at promoting water saving in agriculture. For more information, have a look at www.fruitlook.co.za .
September 2014: The new season starts
It was a good winter. Good, because it started with a chilly cold front in July; these "cold units" are in fact most important so that the vines bud evenly in spring with the warming of the soil. A good winter also because at

times, we had abundant rainfall, and all the dams are now full to capacity. Sadly, this year, the rain caused havoc in many exposed vineyards on other farms, with serious land slides and deep dongas.
But finally spring is here. It's lush and green and again, this abundance of spring flowers everywhere! Also our owls and our kestrels are back breeding in their nest boxes at our wine cellar. And last but not least, the vines are budding, signaling the beginning of a new vintage of Bein Merlot.