Vintage Report 2007
2002 2003 2004 2005 2006 2007 2008 2009 2010 2011 2012 2013 2014 2015 2016 2017 2018 2019 2020 2021
Merlot 2007
The Bein Merlot 2007 was a pleaser from the beginning! It welcomes the taster with fine fruit flavours and delicate hints of vanilla and chocolate, continuing on the palate with juicy, ripe tannins and convincing with a good balance. The same is true for the Little Merlot 2007, which was a great success for its velvety structur.
The Bein Merlot has been matured for one year in 50% new oak barrels, 30% second fill and 20% third fill barrels, while the Little Merlot was matured in third fill oak. Both wines were complemented with 14% of an excellent, ripe Cabernet Sauvignon from the area, which provides a good backbone for longevity.
Analysis
Bein Merlot: Alc 14.0%Vol, TA 4,9g/l, pH 3.61
Little Merlot: 14.1%Vol, TA 5,2g/l, pH 3.6
Vintage report 2006-2007
Winter 2006 - at last a good Cape winter, with plenty of rain and enough cold units, ideal preconditions for a successful new grape season. The soils were saturated with moisture, the dams mostly full, and particularly Theewaterskloof dam, which provides our irrigation water, was over 80% full, i.e. no restrictions are to be expected for the coming season, for the first time again since 2002!
September 2006 - spring in South Africa - started with beautiful weather and temperatures around 25-27ºC , initiating a timely budding. But the cold weather came back for two weeks and impeded even development, and suckering had to be done in three passages. Luckily, the weather turned better at the end of September and allowed the vines to catch up.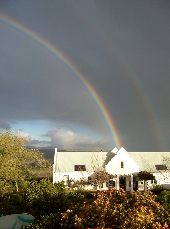 Despite the cold period, flowering started in time with begin of November. But again, cold, wet and windy weather with thunderstorms came up just during the main flowering period and disturbed this important stage, causing weaker berry set and some millerandage.

More over, the thunderstorms not only brought rain, but also more nutrients in form of nitrates, formed from oxygen and nitrogen in the air by lightning, and eventually washed in by the rain. This caused unusually vigorous growth that made us spend uncountable extra hours in the vineyard.
On the other side, the crop was plentiful, and we could generously cut out excessive and inferior bunches during the "green harvest", including all the low quality bunches formed as a result of millerandage. At the same time, we manicure and arrange each bunch to its ideal size and position, in order to create best possible conditions for the ripening phase – lots of tedious handwork, but worth every hour of it!
Summer was almost ideal till February. Warm days and cool nights, perfect for colour development. But then, a heat wave arrived, and the vines suffered, despite our additional irrigation. The sugars developed only slowly, and many bunches of the younger vines dried out completely. To top it off, heavy rain poured down in mid February and caused unluckily some Botrytis.
Eventually we started harvesting on the 16th of March 2007 only. Good sorting of the fruit was imperative that year. But being patient was worth it: the sugar levels were not exorbitantly high and the acidity comparatively low; still the fruit had excellent colour and superbly ripe tannins.
After intensive evaluation, we blended our Merlot already in November with some Cabernet Sauvignon. After this, the wine went back into barrels for another four month, so that it could "fuse" together, before we did our last assessment for our final cuvee.
After 12 month of barrel maturation, we decided in series of blind-tastings to include all our first and second fill barrels in our flagship Merlot and balanced it with a total of 14% Cabernet Sauvignon. This year, however, we complemented it as well with some wine from our third fill barrels, which contributes with its prominently fresher fruit and softer texture.
The rest of the wine was bottled as Little Merlot, also complemented with 14% of Cabernet Sauvignon.
12'000 bottles of the Bein Merlot 2007 have been produced, bottled 8.5.2008