Vintage Report 2008
2002 2003 2004 2005 2006 2007 2008 2009 2010 2011 2012 2013 2014 2015 2016 2017 2018 2019 2020 2021
Merlot 2008
2008 was a great vintage for us, producing naturally balanced wines with good structure, succulent fruit and sweet-spicy barrel flavours. They are opulent on the palate without being imposing, and with wonderful soft tannins. Beside the Bein Merlot, we also produced in 2008 our first Merlot Reserve, which derives from a specific micro-site within our vineyard which proved over the last few years to produce consistently superior quality.
Both wines were be released in May 2010, but have already early caught the attention of the tasters of the South African wine guide JOHN PLATTER 2010, who rewarded them with 4½ stars each. And the German Bordeaux specialist Rene Gabriel honoured the Bein Merlot with 18/20 points!
The Little Merlot 2008 was a great success, too, delivering excellent value for money, and it was therefore quickly sold out.
Analysis
Bein Merlot 2008: Alc. 14.56%Vol, TA 5,3 g/l, pH 3.57
Merlot Reserve 2008: Alc 14,3%Vol, TA 5,5 g/l, pH 3.54
Little Merlot 2008: Alc. 14.24%Vol, TA 5 g/l, pH 3.51
Vintage report 2007-2008
Winter 2007 was a particularly long, cold and wet winter. Good rainfall during the post-harvest period of 2007 ensured a good recovery of the vines after the warm season, and sufficient reserves could be build up for budding. Moreover, cold temperatures during June provided sufficient cold units for optimal dormancy breaking. Again the dams are full, with Theewaterskloof Dam - our supplier of the irrigation water - at the very high level of over 90% full. Correspondingly, we could wait with the final short-pruning until the beginning of September, which helps in achieving an even budding rate.
Cool weather during September 2007 delayed budding further, so the vineyard work only started by the end of September. The cool weather stayed on, resulting in a slow and even development of the vineyard. All in all, it was a late and rainy start into the season - Theewaterskloof Dam is by now 101% full!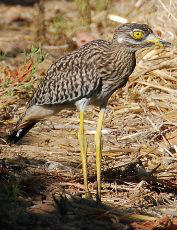 Flowering was accordingly delayed, occurring around end of November. Fruit set was generally good, though the occasional rains caused some millerandage. The canopy developed at first quite evenly, but growth became eventually rather vigorous because of the good moisture supply. A lot of work was needed this year to keep the vines in shape.

Veraison was late, too. We detected the first signs of colour change on the 10th of January, with an estimated 90% completed by the 22nd.
But the highlight of the season was the pair of Dikkops that chose our vineyard as breeding ground and successfully raised a chick. They are beautiful birds with stunning bright-yellow eyes. We appreciate their presence as reward for our efforts for a sustainable viticulture.
Harvest started late in 2008. The first bunches were picked on Easter Monday only. The ripening was very even, and we could take in everything within four days. The fruit looked fantastic, thick-skinned berries, intense aromas, dark blue colour and crispy ripe tannins. In the cellar, it soon appeared that the vintage 2008 could be of outstanding quality, with the wines showing wonderful fruit flavours from the very beginning.
Particularly the wine deriving from that promising micro-site in the middle of our vineyard was so juicy, that it took its allocation of 100% new oak with ease. In fact, this wine showed so well that we eventually decided to bottle it separately under a new Merlot Reserve label.
After one year of barrel maturation, we classified our wines following our tasting trials, and again, we blended our Merlot 2008 with 10% of Cabernet Sauvignon, though complemented this year also with a dash of Malbec. The wine was bottled in May 2009, producing 8450 bottles Bein Merlot 2008, 1800 bottles Merlot Reserve 2008, and 4750 bottles of Little Merlot. In addition, we produced 295 Magnum of the Bein Merlot.