Vintage Report 2009
2002 2003 2004 2005 2006 2007 2008 2009 2010 2011 2012 2013 2014 2015 2016 2017 2018 2019 2020 2021
Merlot 2009
The vintage 2009 produced hearty wines, with good concentration and somewhat higher alcohol than usual, following in the footsteps of the extraordinary 2008. Blended with 10% Cabernet Sauvignon and bottled in April 2010, it shows lovely berry flavours and velvety tannins.
Bein Merlot 2009 was matured for one year in 50% new oak barrels (balance 40% second fill and 10% third fill) and bottled unfined und unfiltered. We didn't bottle a Merlot Reserve this year. Not that the quality of the vintage was not good enough - wrong! In fact, the 2009 was of such

evenly

good quality that a further distinction was impossible. The excellent quality of this wine was also confirmed by the South African wine guide JOHN PLATTER with a solid 4 1/2 stars rating!
Bottled in April 2010, this wine was released by mid 2011
Little Merlot 2009 was produced from fruit of lusher parts of our vineyard and matured in third and fourth fill barrels. It was lightly fined with natural egg-white (of course from free run chicken) and filtered at bottling, promoting the smoother character and earlier accessibility of this wine. JOHN PLATTER confirmed with this wine the good quality of the vintage and promoted the Little Merlot 2009 to 4 stars.
Bottled in April 2010 and released in July 2010
Analysis
Bein Merlot 2009 : Alc 14,74%Vol, TA 5.31 g/l, pH 3.55
Little Merlot 2009: Alc 14,23%vol, TA 5.26 g/l, pH 3.63
Vintage Report 2008-2009
Winter 2008 was the coldest and certainly wettest for years. Okay, the vines liked it, and the dams filled up to full capacity, but the continuously cold and wet weather started to affect our moral, as in South Africa one just lives outdoors.

With an average temperature of 12,7 degree C, September was as cold as the preceeding winter months, and budding was again delayed for about two weeks untill the beginning of October. Cool weather conditions and more rain during October and the first two weeks of November continued this trend. To make things worse, the wind was blowing constantly and damaged the young tender shoots.

Nevertheless, flowering set in evenly around the 20th of November, and at last during this critical period the weather calmed down and created ideal conditions for a good fruit set. However, not everybody was as lucky, and November 2008 saw some of the worst flood damages of the recent history in certain winegrowing areas, as this picture from Robertson demonstrates! (picture courtesy of WineLand | www.wineland.co.za )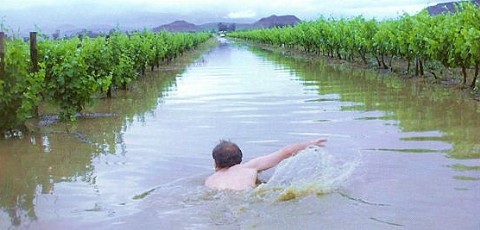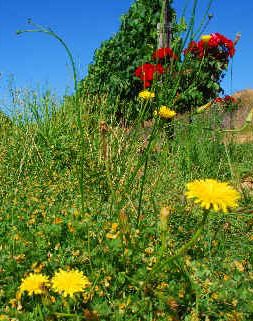 The high soil water levels, above average rainfall even in December, and the throughout moderate temperatures created vigorous growing conditions, and lots of extra-work was required to keep the canopy in shape. Also, the generous fruit development had to be rigorously controlled in order to obtain the targeted quality and quantity of crop.
Of course, the weed enjoyed this weather, too, but was for once allowed to grow to an unusually high stand, to counteract the vigour of the vines by competing with them for water and nutrients. In addition, the natural plant cover creates favourable conditions for beneficial organisms, which in turn will keep potential pests in check. And after all, it looks nice, doesn't it!?
A refreshing summer shower on Feb 9, overall moderate day temperatures and cool nights continued to create good conditions for a slow and even ripening. As expected, veraison (change of colour) set in about one week later than last year. On another note, February 2009 will also be remembered for the widespread bushfires, which rampaged for weeks through the Stellenbosch mountains.
As expeceted, harvest was late, on 30 March 2009, but waiting was worth it: Again, the weather was ideal throughout the ripening period, and perfectly ripe and healthy fruit came onto the sorting table. Moreover, it was a large crop!
In the cellar, the Merlots 2009 developed very well, after we were at first a bit worried about the big tannic load of the wines. Tastings after 12 month in barrels confirmed eventually beautifully velvety wines, and - even more surprising - of very even quality. The wines from our different batches were actually so even that we decided to fill all under one label only, Bein Merlot, except for the wines deriving from the vigour parts from our vineyards and matured in older barrels, which we bottled as our Little Merlot. Once again, we blended the Merlot with 10% Cabernet Sauvignon, following our tried and tested recipe.
The Bein Merlot 2009 was bottled unfined and unfiltered in April 2010, yielding 11'800 75cl-bottles and 300 Magnums, while the Little Merlot 2009 was slightly fined with egg-white and filtered at bottling (5600 bottles).